What is the PCL?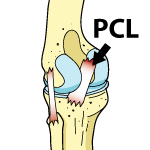 The Posterior Cruciate Ligament (PCL) is located in the back of the knee. It forms an "X" with the Anterior Cruciate Ligament (ACL) inside the knee joint. The PCL works with the ACL to control the back-and-forth movements of the knee. It also prevents the shinbone from moving too far back in the knee joint.
The PCL is one of several ligaments in the knee that connects the shinbone to the thighbone.
The PCL is the strongest ligament in the knee and is harder to injure than the other knee ligaments. It is often injured along with other structures in the knee, such as the meniscus, other ligaments, and even bone. The majority of PCL Injuries are mild and can be healed without the aid of surgery.